Deprecated
: Methods with the same name as their class will not be constructors in a future version of PHP; plgContentJw_allvideos has a deprecated constructor in
/home/html/yeenet.eu/public_html/www/archives/plugins/content/jw_allvideos/jw_allvideos.php
on line
18
Deprecated
: implode(): Passing glue string after array is deprecated. Swap the parameters in
/home/html/yeenet.eu/public_html/www/archives/plugins/content/jw_allvideos/jw_allvideos.php
on line
72
Deprecated
: implode(): Passing glue string after array is deprecated. Swap the parameters in
/home/html/yeenet.eu/public_html/www/archives/plugins/content/jw_allvideos/jw_allvideos.php
on line
72
Deprecated
: implode(): Passing glue string after array is deprecated. Swap the parameters in
/home/html/yeenet.eu/public_html/www/archives/plugins/content/jw_allvideos/jw_allvideos.php
on line
72
EVS sending

Deprecated: implode(): Passing glue string after array is deprecated. Swap the parameters in /home/html/yeenet.eu/public_html/www/archives/plugins/content/jw_allvideos/jw_allvideos.php on line 72
YEE is not only hosting EVS volunteers, it also sent some in other countries. Here you will find more information about what the volunteers sent by YEE did in their hosting organisations.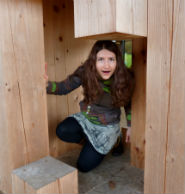 Some children have very clear ideas about what they want to do as adults and they just "simply" follow their dreams. I on the contrary have always been searching for the fitting vocation, following a path as long as it made sense, learning as much as I could and then changing the direction. Or the place. I have enjoyed traveling, but what I really fell in love with was living in foreign countries. I started while I was still studying at university and since then I just could not stop.
So, when I learned about EVS, I immediately decided to take the chance and join it. But it took another 2 years to carry out this idea. Finally, in August 2014 I moved to a small village in Denmark and joined a community called Hertha, a project of inverse inclusion, where common people live close to mentally handicapped ones. And I cannot stress enough, that it was definitely worth waiting for. It is simply as close to paradise as one can get, combining all the benefits of living in the countryside with the advantages of sharing so much as a community.
Hello, my EVS is taking place in Portugal since september 2012 untill the end of July (10 months). I live, work and study in Pinhal Novo which is a town in a rural area between Lisbon and Setubal close to national park Arabida (very beautifull).
My hosting organisation is called AJCOI and its field of work is leisure-time activities and support for local youth.